ICTV Community Bulletin Board
Details
Dogs and puppies begin to gather as the familiar smell of sausages on a barbecue begins to waft over the community. The balloons are blown up, the pamphlets are out and all of them are threatening to blow away. But now, where is everyone?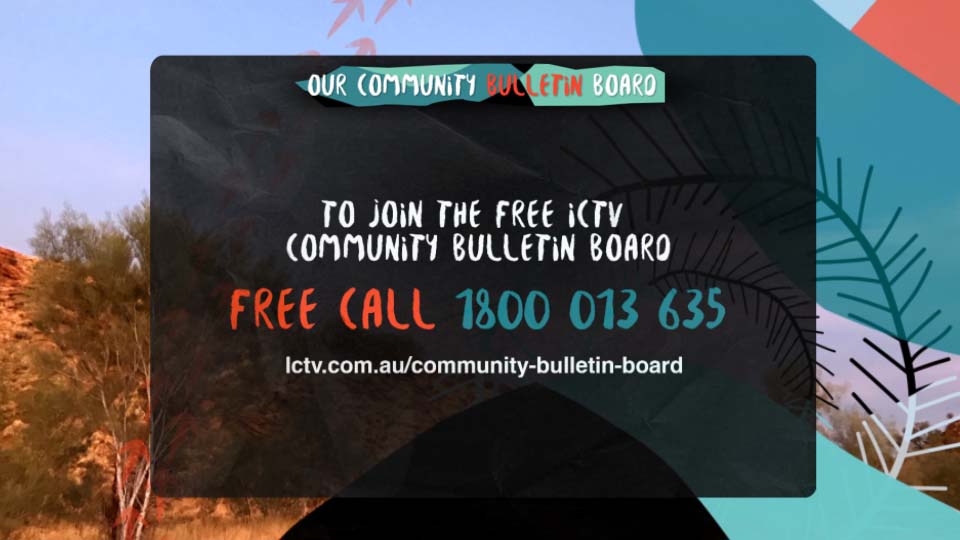 Community events are an important tool in grassroots organisations tackling issues from health to education and everything in between. But sometimes, the most difficult aspect can be spreading the word.
The Community Bulletin Board, which has been recently revamped as part of a new graphics style that is being introduced to ICTV, is an important element of programming that offers free promotion and publicity for free or publicly available community events.  

To be eligible for promotion on the Community Bulletin Board, the event being promoted must be a community or public event, targeting the ICTV audience in a positive way. The event also needs to be happening in a location that receives ICTV or if not, benefit Indigenous Australians in remote areas.

The message must be text only with no images and the size of the text must be able to fit on one screen.

Events advertised on the board are not limited to those that are being held in Central Australia. ICTV, whose audiences reach far and wide, wants to help as many community events flourish as possible. The process is simple, apply at least two weeks before the event by calling the Alice Springs office on 8952 3118 or submit online.