12 Days of ICTV Xmas
 On the first day of Christmas, ICTV sent for me; some highlights for all of us to see. In celebration of the festive season ICTV will air 12 days of Christmas special programming.
From December 21st to January 1st, at 7:00PM every night, viewers can expect to see the best and most popular ICTV videos.  One of the highlights is the Community Broadcasting Foundation (CBF)  Special on Christmas Day.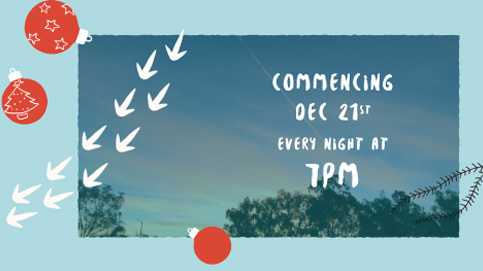 12 Days of ICTV Christmas Program:
December 21st -          Bush Bands Bash Highlights
December 22nd -          The Tiwi Grand Final and the CAFL Grand Final
December 23rd –          ICTV's most popular videos from 2017 
December 24th-           Our Tucker Special
December 25th-           CBF Special with video introduction from CBF headquarters
CBF videos: Gununa- Changing Seasons (Tropic Productions),
Laramba Possum Dreaming (PAW), Meals on Wheels (NG Media), Saving Warru (Ninti Media)
December 26th-           Our Place Ep1, ICTV Productions (Card stories, Warakurna artist, Fitness Show)
December 27th-           Our Place Ep2, ICTV Productions (Card stories, Warakurna artist, Fitness Show)
December 28th-           Our Place Ep3, ICTV Productions (Card stories, Warakurna artist, Fitness Show)
December 29th-           Our Place Ep 4, ICTV Productions (Card stories, Warakurna
                                    artist, Fitness Show)
December 30th-           PAKAM Special
December 31st-            Art Centre Special- Artists of Ampilatwatja, Barabba, Mowanjum
January 1st -                 Our Culture Special (NG Media and First Languages Australia)