About inLanguage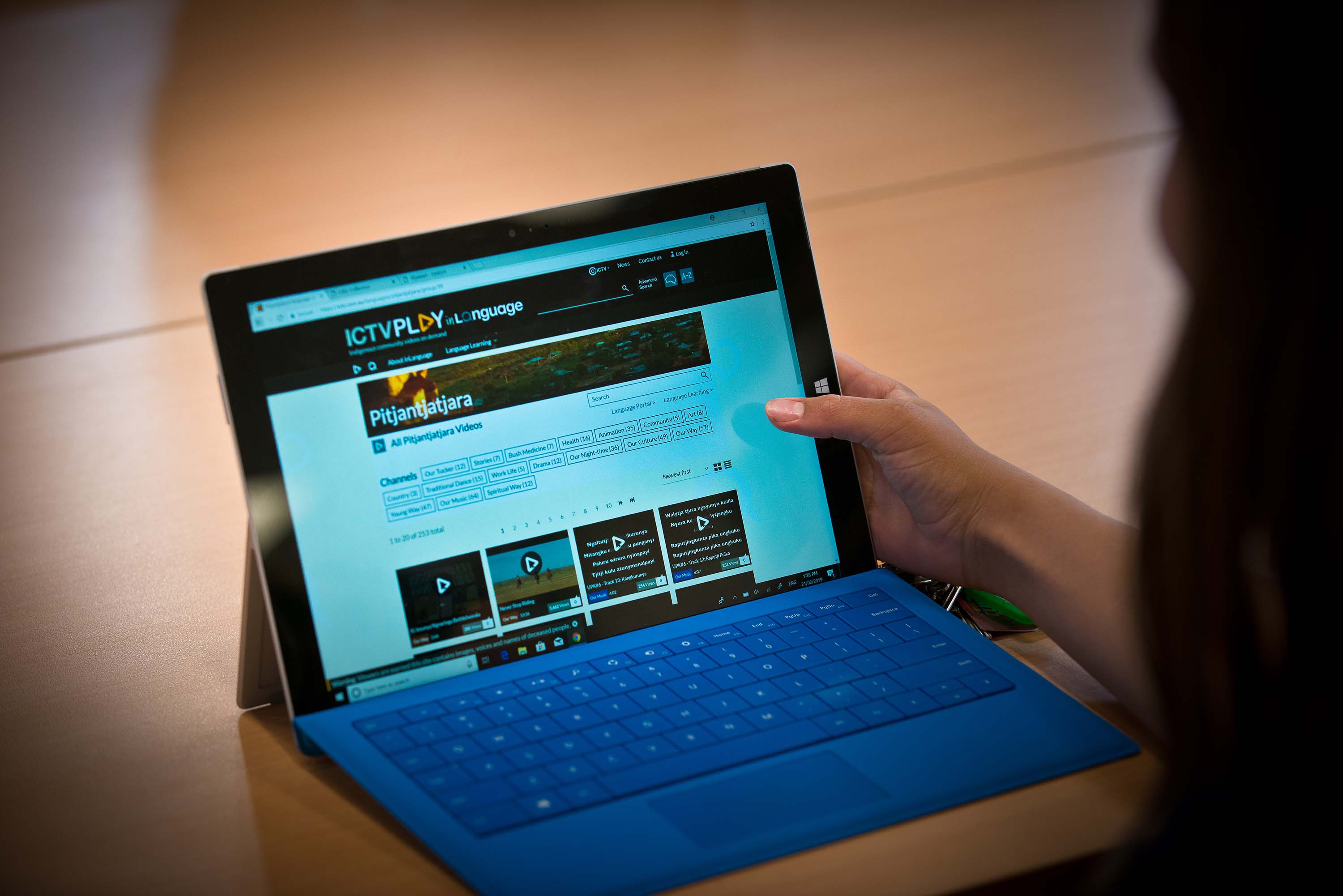 inLanguage makes it easy to find videos in the many Indigenous languages and language groups available on ICTV PLAY. Through the different search tools available, you can now access all the content for a language or language group easily.
inLanguage also has pages for 34 selected languages and language groups. On each page, you will find ICTV videos organised by language along with videos about learning language and resources to help with further learning.
The inLanguage project will also support eight language groups to create new video content and collaborate with them to digitise old archival footage if it exists.
ICTV thanks the language workers who have provided advice and audio content throughout the development of inLanguage.
Supported through the Australian Government's Indigenous Languages and Arts program, Batchelor Institute and First Languages Australia.
Artworks for Luritja, Miriwoong, Noongar, Pertame, Warumungu, Wik-Mungkan, Yankunytjatjara Language Portals illustrated by Yuleya Walker.
Artwork for Anindilyakwa Language Portal illustrated by Elvis Wurramara
Elivs Wurramara - Old Angurugu River Bridge
© Wurramara, Elvis, 2022
Susan Wanji Wanji - Hunting At Johnson Bay
© Wanji, Susan Wanji Wanji/Copyright Agency, 2018.
Butcher Janangoo - Girndi and Seeds
© Butcher C Janangoo/Copyright Agency, 2018.
Ada Dixon - Acrylic on Linen 91 X 91, 2018
© Ada Dixon/Copyright Agency, 2018.
Sally Nangala - Little Sisters Camp Life - Inarlenge
© Sally Mulda Nangala/Copyright Agency, 2018.
Nerida Giles - Minyma Tjukurla
© Nerida Giles/Copyright Agency, 2018.

Artworks for Gurindji, Kukatja, Kunwinjku, Martu Wangka, Walmajarri and Western Arranda Language Portals illustrated by Amanda Turner and Siobhan Turner
Illustrations are reinterpretations of video stills provided with permission from the Producer
Kukatja Portal artwork / 'Desert Scape', illustrated from video still provided by PAKAM from the video 'Kurrarlkatjanu'
© Amanda Turner, 2019
Walmajarri Portal artwork / 'Family Walking', illustrated from video still provided by PAKAM from the video 'Who is Mona Chuguna?'
© Amanda Turner, 2019
Martu Wangka Portal artwork / 'Ladies Lazing', illustrated from video still provided by Desert Feet Inc. from the video 'Irrungadji Mural Project'
© Amanda Turner, 2019
Gurindji Portal artwork / 'Old Ladies', illustrated from video still provided by Karungkarni Art from the video 'Gurindji Bush Medicine'
© Amanda Turner, 2019
Western Arranda Portal artwork / 'Finke Store', illustrated from video still provided by Lutheran Community Care from the video 'Many Families and Friends are Strong at Ntaria : Episode 15'
© Siobhan Turner, 2019
Kunwinjku Portal artwork / 'Kids On Rock', illustrated from video still provided by Uncle Jimmy Thumbs Uo! ltd from the video 'Good Tucker Song by the Jimmy Little Foundation in Gunbalanya'
© Siobhan Turner, 2019